The West Attica Business Association awarded the Eugenides Foundation
On Wednesday, February 26, 2020, the West Attica Business Association honored four businessmen who demonstrated work of social acceptance in vocational education and entrepreneurship, at a special event held in Elefsina.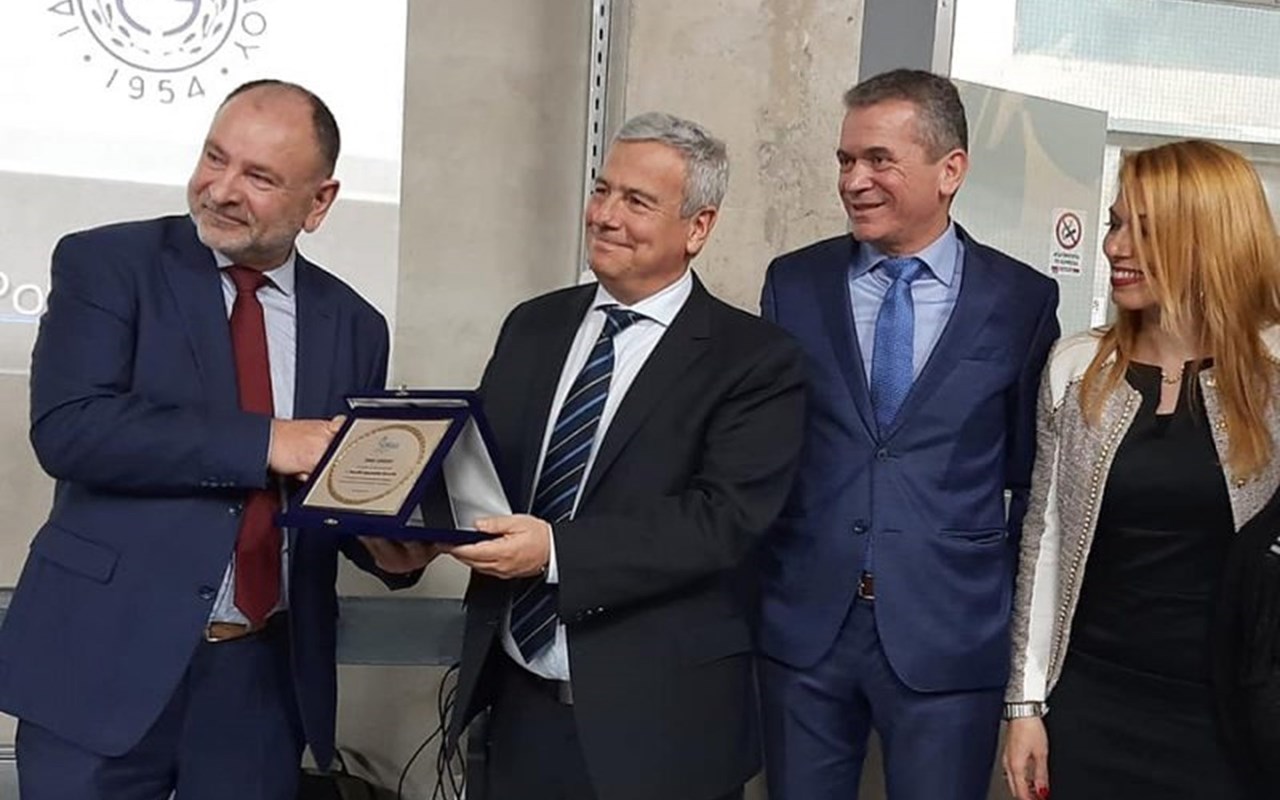 The President of the Eugenides Foundation Mr. Leonidas Dimitriades-Eugenides received the Association's Special Honorary Award for the contribution of the Eugenides Foundation to the country's vocational education over the years.
In his brief address, Mr. Dimitriades-Eugenides underlined that vocational education is essential in shaping a culture of future experts with special skills and commitment to contribute to the efforts of healthy businesses, to invest in innovation and the country's growth prospects.
The late Eugene Eugenides also shared this view, with emphasis on vocational education and its association to the productive sectors.
The President of the Eugenides Foundation stated that the young technicians of the country can gain the necessary knowledge from vocational education and then continue their education (lifelong learning) in scientific fields having a strong technological background, which can help them evolve into successful entrepreneurs. He also mentioned the example of a well-known shipowner who distinguished himself in shipping, with a vocational training background.
Mr. Eugenides mentioned that he supports all forms of lifelong learning, especially nowadays that the development of new technological tools has shifted market demands. In this respect, the Foundation contributes significantly to the modernization of the curriculum.
The President of the Eugenides Foundation thanked the Association for the award. Referring to the lyrics of Nikos Gkatsos on Western Attica as "the world's balcony", he stressed that Western Attica has always been the most important area for agricultural, small industries and industrial production, but also for services related to transport, shipping, logistics and shipbuilding.
The President of the West Attica Business Association and the Chamber of Small and Medium Sized Industries of Piraeus Mr. Andrianos Michalaros presented the award to Mr. Leonidas Dimitriades-Eugenides and underlined the value of the Foundation's publications for generations of technicians who worked on the reconstruction and modernization of the country in difficult times.
Mr. Andrianos Michalaros stated: "As we had studied the books of the Eugenides Foundation, which are still in my library, so the next generation of technicians has to study and attain the development and dignity Greece deserves. It is a patriotic duty."
Three prominent businessmen, Mr. Nikolaos Kriekoukis, Mr. Elias Papadakis and Ms Meleti Zaferi were also awarded for their significant contribution to the society and economy of Western Attica through the years.