Equipped for Electronics, 3D printing, Robotics and Audiovisual.
The Lab is equipped with hardware and software for electronics, 3D printing, robotics, photography and video.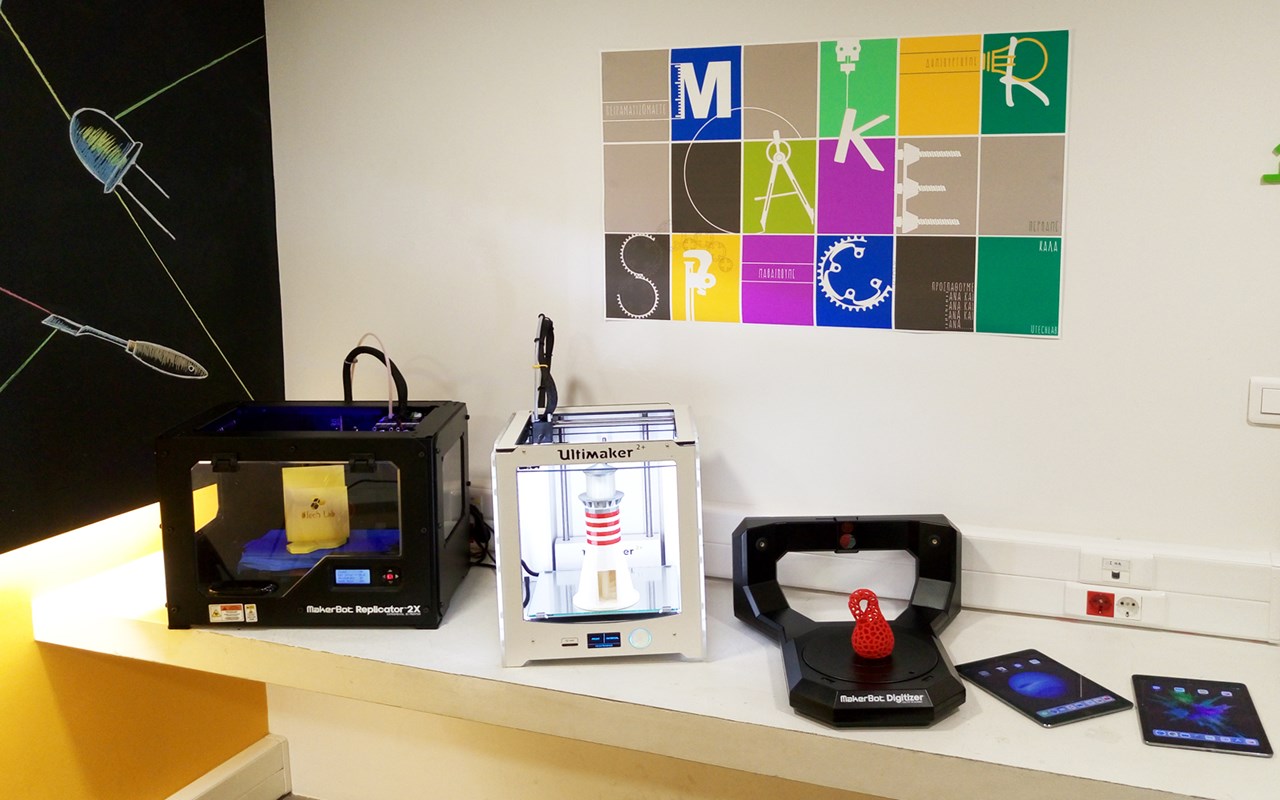 Electronics
The Lab has all the necessary electrical and electronic equipment for the realization of electronics workshops and experimental projects. The basic equipment consists of one welding station, multimeters, breadboards, electronic components such as LEDs, resistors, capacitors, switches, etc.
Moreover the Lab also offers:
Arduino Uno microcontroller boards
Arduino shields
Raspberry Pi
ATtiny  microcontrollers
Sensors (distance, light, sound, gas, temperature, etc.)
The equipment may be used by visitors under the guidance of the trained staff of the Eugenides Foundation.
3D Printing

The Lab has two 3D printers, one Ultimaker 2+ and one Makerbot Replicator 2x, as well as a Makerbot Digitizer 3D scanner. Ultimaker 2+ uses 2.85mm diameter PLA material, while Makerbot supports dual extrusion and uses 1.75mm diameter ABS material. The two 3D printers are used for educational purposes and experimental projects.
Objects are designed in a specialized modelling program, such as Tinkercad, Blender, Rhinoceros 5 and SketchUp. After the design is finalized, they are printed in one of our 3D printers.
Equipment
Ultimaker 2+ 3D  printer
Makerbot Replicator 2X 3D printer
MakerBot Digitizer 3D scanner
PLA and ABS 3D printing filament
Cutting board
Electronic soldering iron
Silicone gun
Cutters, pliers, screwdrivers
Robotics

The laboratory has the educational platform Lego Mindstorms EV3. The platform provides materials for the construction and programming of simple robots. It consists of components such as bricks-joints, shafts, gears, electronic parts and software, which enable the construction of the robot and programming its motion.
Equipment
LEGO NXT EV3.0 Basic
LEGO NXT EV3 Expansion set
LEGO Mindstorms Education EV3 software
LEGO Mindstorms Education EV3 design projects
LEGO NXT transformer
EV3 infrared emitter
Infrared sensor
Multimeters
Audiovisual
Photography and video
The laboratory has professional equipment and software for video and image capture and editing. It can handle simple or even more complex productions. The green screen enables shooting and adding the background of your choice.
The laboratory has two Nikon cameras, five Sony cameras and 2 GoPro cameras. GoPro cameras are specialized for difficult, demanding shots and are highly weather-resistant, making them suited for extreme sports.
Equipment
Nikon D5200 camera with 18-105 lens
Nikon D5200 camera with 1855 lens
Sony HDR-CX220 camera
Sony Nex VG30 camcorder
GoPro Hero 3+ Black Edition camcorder
Equipment for green screen
Luminus LED green screen lights
Sound Studio

Equipment
IMac i5 2.9 GHz computer
Mbox Pro Audio Interface audio card
Scarlett Solo Focusrite sound card
Analogue Mackie Onyx 1640i mixer with integrated sound card via Firewire
M-Audio keyboard controller
2 Focal CMS 40 speakers
Presonus Faderport DAW digital audio workstation controller
Presonus HP4 headphones mixer
2 Rode NT1A microphones
SHURE BRH440M headset and microphone
Pro Tools 11 software
Adobe CS5 software
Software and applications
Computer software
The Lab has the following software programs: Premiere, After Effects, Photoshop, Illustrator and InDesign from the Adobe Master SC6 Collection. The Laboratory's iMac computers are equipped with audio and video editing applications, such as iMovie and iPhoto, Final Cut Pro X, Mac Caption and FxFactory, with the following plugins: SUGARfx Subtitles and e-Postprod Voice Over.
The Lab also has 3D design software programs such as Rhinoceros 5, Blender and SketchUp.
iPad Applications

The laboratory is equipped with 15 iPads. The iPads have applications for image and audio processing, augmented reality, the creation of comics etc. These include: Green Screen by Do ink, Comic Book!, Comic Life, Tellagami, Κοma Κoma, HP Reveal, Pixlr Editing and Garage Band.