Eugene Eugenides (1882-1954)
'My joy lies in the struggle, and the fruit of victory I reserve for my homeland.'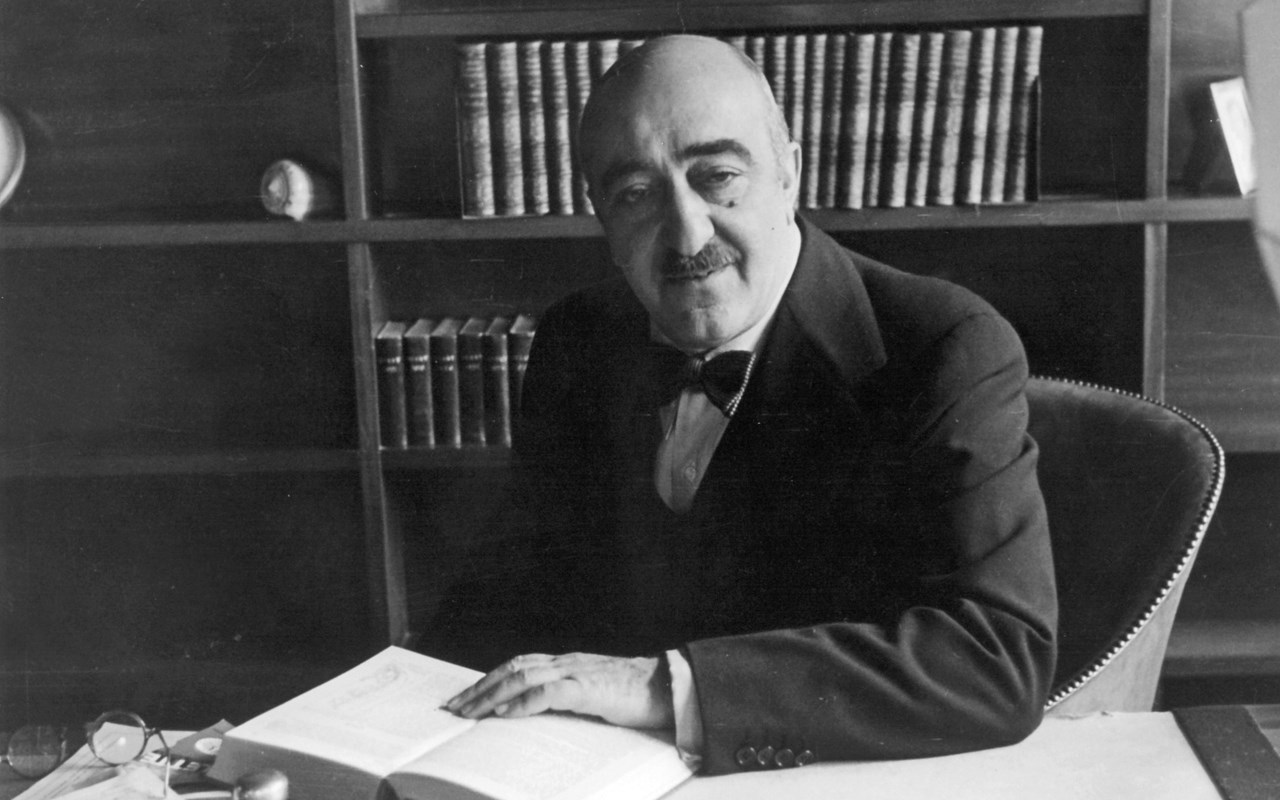 Born on 22 December 1882 in Didymoteicho, Eugene spent his school years in Istanbul, where at the age of 20 he graduated from the American Robert College, renowned throughout the Balkans. In Istanbul he worked for large commercial houses concerned with importing timber to Turkey.
In order to strengthen his business activities, he set up a shipbuilding yard in the Golden Horn and up until 1922 he was considered one of the most important economic players in Istanbul.
After the Asia Minor catastrophe, he left Istanbul and moved his headquarters to Piraeus, assuming the general representation and agency of the Swedish Orient Line for Greece and the Middle East. His own Scandinavian Near East Agency S.A., which managed its interests, became the largest agency in the entire Mediterranean.
In order to further the development of this regular shipping line, he engaged in importing Scandinavian timber to Greece and became the largest timber importer in the country and the Near East. The development of Finnish and Polish shipping lines to Greece and the Near East are also owed to Eugenides.
Over the years, the Scandinavian Agency had established agencies in all the ports of Greece, Turkey, Egypt, Syria, Palestine, Romania, and Bulgaria and later in Buenos Aires in Argentina and Cape Town in South Africa, as well as in Brazil.
During World War II (1939-1945) he transferred his activities to South Africa and linked Cape Town to Buenos Aires with cargo and passenger ships. In anticipation of the increase in migratory flows from Greece and Italy to North America after the war he founded Home Shipping Lines, a passenger ship service that initially ran routes to South America and Australia and later to North America.
With the end of the war and having foreseen the need of a devastated Europe to import essential goods, he urged the Swedish Orient Line to build reefer (refrigerator-freezer) ships to transport perishable cargo. At the same time he moved all of his activities to Switzerland, a neutral country with a highly developed communication infrastructure.
One of his numerous charitable deeds was the hugely important donation of 1 billion drachmas in support of the victims of the devastating earthquakes in the Ionian Islands in August 1953. He also sent a fully equipped hospital and prefabricated dwellings to the island of Zakynthos.
In mid-1953, he founded a new regular shipping line between Greece and South America and launched the first Greek-flagged passenger ship to serve the Greek–North American route, creating a bridge connecting Greece with New York and the expatriate Hellenism of America.
He died on 22 April 1954 in Vevey, Switzerland. Although his work had not been completed, he had already prepared his plans for its future realisation. His last wish, as recorded in his will, was the establishment of a foundation that would contribute to the education of young Greeks in the scientific and technical fields, having understood that Greece lacked well-trained technical staff, both in numbers and standards, compared to vocationally trained staff in other European countries.
Eugene Eugenides was not only a forward-thinking and prolific entrepreneur with an amazing ability to transform his ideas into practice and a vision that still remains relevant, but he was also a great patriot. He dedicated his life to his own struggle, contributing to the economic recovery of his country and leaving behind the Eugenides Foundation, which remains a timeless pillar of technical education in Greece.
As he had said: 'The fortune is not for me, it is the seal of victory – and only victory interests me [...] My joy lies in the struggle, and the fruit of victory I reserve for my homeland.'