Supplementary service for schools
In response to the great demand from schools for «The History of Writing» programme, in November 2011 the EF Library created another activity, entitled «The Writing Traveller», as a supplementary service for schools.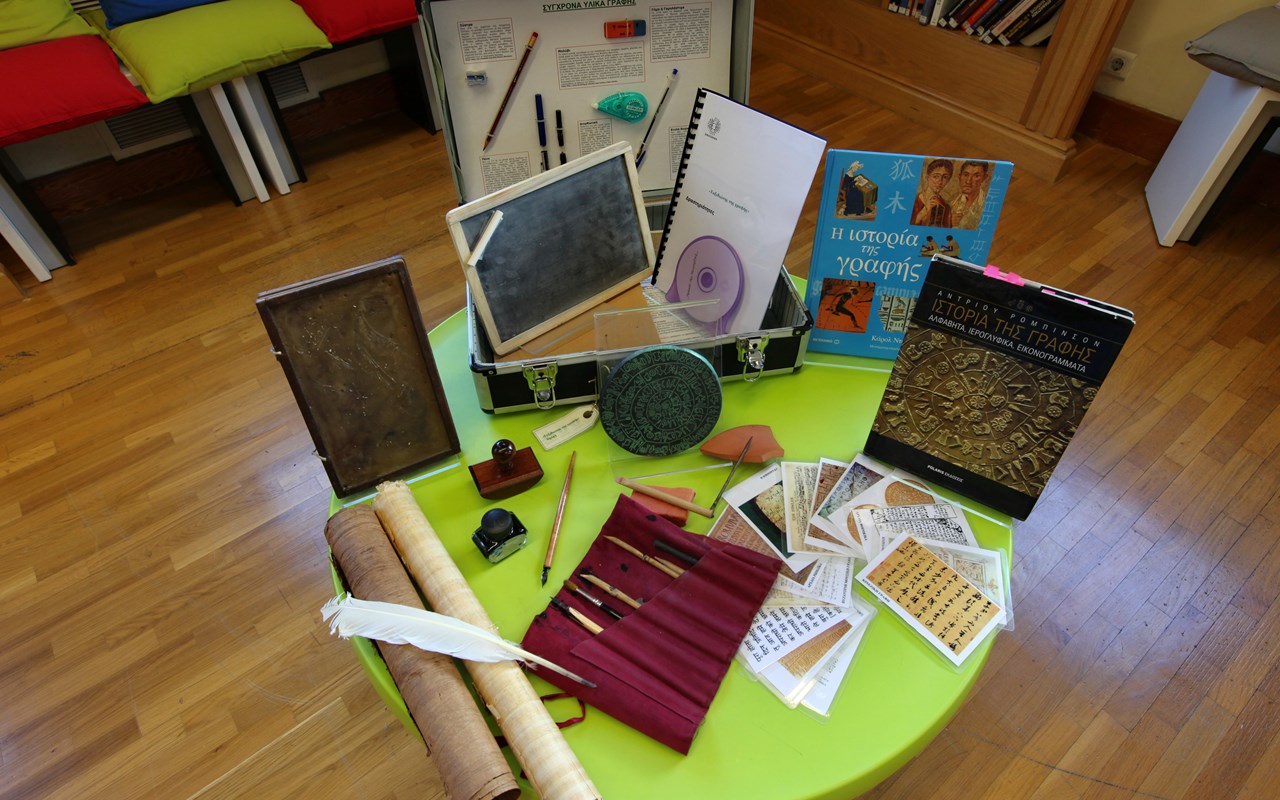 The training material is provided in a suitcase that is loaned to schools free of charge. The Writing Traveller contains books, a PowerPoint presentation, games, activities, materials and writing instruments, that is, all the appropriate material with which the teacher can teach the history of writing in his/her classroom.
This material allows the teacher to use games and activities to help him/her transform the understanding of the subject into a pleasurable process.
Students also come into contact with materials and instruments of the past and test them in practice. To that end, the suitcase contains consumable materials that are replaced each time by the Library. The teacher can use the PowerPoint presentation provided on a CD to highlight progress in writing methods using images and videos. 
In order to help the teacher better prepare himself/herself to cover the subject, two easily comprehensible and complete books explaining the issues are included in the suitcase. 
The purpose of The Writing Traveller is not only to help the educator in his/her teaching, but also to serve as a starting point for further exploring the subject through motivating the student's curiosity in an experiential and fun way. 
Note: The Eugenides Foundation also covers the shipping costs for sending the educational activity package to public schools outside Athens.
 The detailed list of the contents of the suitcase is the following:
1 book: Andrew Robinson, Ιστορία γραφής, transl. of The Story of Writing, Athens: Polaris, 2007
1 book: Carol Donoughue, Ιστορία της γραφής, transl. of The Story of Writing, Athens: Metaixmio, 2009
1 CD
1 activity form
1 blackboard
2 metal styluses
2 wooden pens
1 goose feather
2 ink pens
2 reed pens
1 calligraphy brush
1 bottle of ink (consumable)
1 charcoal crayon (consumable)
1 piece of chalk (consumable)
1 package of clay (consumable)
1 sheet of blotting paper
1 Phaistos Disc
1 ceramic tile
2 wax writing plates
1 booklet of paper samples
17 cards of writing samples
1 card showing modern writing materials
1 folder with information about Braille
The programme has been approved by the Ministry of Education, Research and Religious Affairs (decision 182509/D7).