Creative challenge beyond limits | Ages 12-18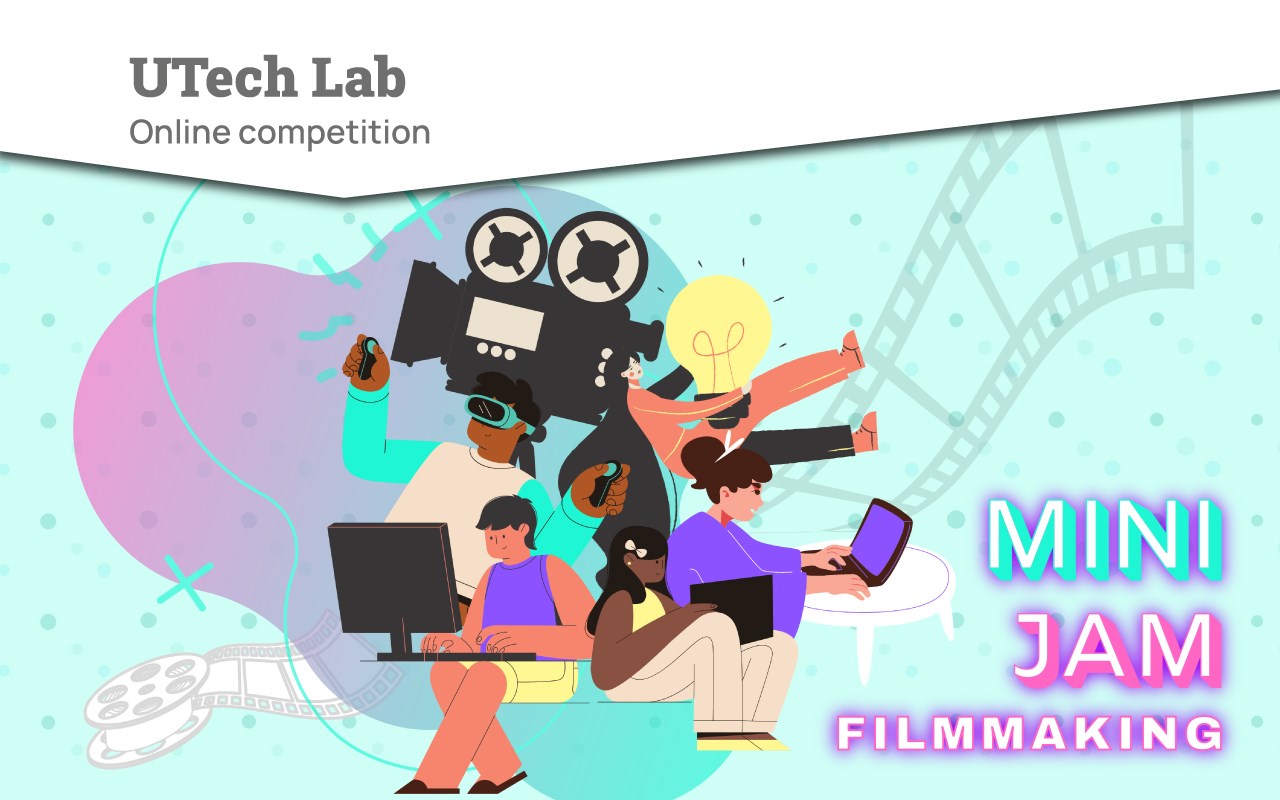 Participation Application
Fill in your details
here
Key dates
Launch date for the first competition 19/02
Presentations and Prizes for the first competition 5/03
Launch date for the second competition 9/3
Presentations and Prizes for the second competition 2/4
Supporting Workshop Video Editing
11/02 16.00 - 17.30 or
18/02 16.00-17.30
11/03 16:00-17:30
18/03 16:00-17:30
To register call 210 9469 641 from Monday to Friday 9:30- 16:30
Do you like making videos? Are you a streamer? We invite you to participate in the Mini Jam Filmmaking competition and create an Oscar-winning video together with your friends!
The UTech Lab invites you to a novel educational competition. It is an online two-week challenge, during which the participating teams will be asked to develop their own short video based on a particular technological theme. The competition will take place from February 19th to March 5, 2022.
If you like, you can participate at the supportive workshop that will take place before the competition. For more information, click here.
In order to participate you need to:
Be 12-18 years old
Create your own, unique team (up to 4 individuals, ages 12-18)
Fill in the participation form until February 13th.
Have an internet connection.
Have or create a Gmail account that you will use during the competition.
Have fresh ideas, creativity, and excitement!
And yes, you must like surprises!
Why?
Well, because the competition's specific theme will be announced on the first day of the competition.
What do you think? Do you accept the challenge?
Join now! 
*The number of participants is limited. Selection will be based in priority order. 
FAQs 

Who can participate in the competition?
All teenagers between 12-18 years of age.
I want to participate but I know nothing about video making.
No problem! UTech Lab will host two supporting workshops about video editing on Friday 11/02 and Friday 18/02, 16:00 – 17:30. If you are interested, you can register by calling 210 9469 641 Monday-Friday, 9:30-16:30.
Is there a limited number of teams participating?
Yes, the competition will have up to 12 participating teams. Each team can have up to 4 members. If more than 12 teams are interested in participating, selection will be made based in priority. If the number of applicants is very large, we may repeat the competition at a later stage.

I don't have a team. Will you form teams of individual participations?
Unfortunately, UTech Lab will not create teams from individual applications. You must find at least one more member for your team in order to join the competition.

I submitted my participation form! When and how I will be informed about the theme of the competition?
There will be an online presentation for the participating teams on Saturday, February 19th 2022 at 12:00.
Is there a participation fee?
No, participation in the Mini Jam is free, just like every other activity of the UTech Lab.
Do I have to visit the UTech Lab during the competition?
No, the competition is held online.
Do we have to connect to the UTech Lab online on a daily basis?
During the competition, the teams will work independently. Communication with the UTech Lab will be through an online educational platform that will be created for submitting questions and technical problems. The platform will be open to every team. There will be a videocall at the first day of the competition, February 19th at 12:00 and another videocall for the final presentation of the projects, March 5th at 12:00.

Do we have to use Specific tools and software?
No, you can use any videomaking Software you wish as long as the final video file that you will submit is in the form of an .mp4, .avi, .mov, .mpeg or .wmv file.

Can I use existing footage or music in the video?
The competition is not about victory. What matters is learning new things, discover new fields of interest, competing fairly and working as a team. The teams must create and present original content, without the help of someone outside their team. The footage, music, sound, or pictures used will have to be original and royalty free. If you use free content from the internet, it is necessary to credit the creator at the end of the video and in a separate accompanying file. Example. Music credits: Star.fm. In any other instance, the Eugenides Foundation bears no responsibility.
Note: The UTech Lab may change the competition's program, dates, and terms without a previous warning.
-----------------------------------------------------------------